Aguja Saint-Exupery - South face


12. Astrochoss


500m 30˚ 6b C1
Kate Rutherford and Mikey Schaefer (USA), 01/2012.
Description. Climbs a line that crisscrosses Condorito to join the ruta Italiana at the big snowfield half way up the face (700m altogether). The rock is less than perfect.
History. With this route Mikey has now climbed new routes in six of the towers that crown the Fitz Roy skyline, including routes on Mermoz, Poincenot, Fitz Roy, Innominata and Guillaumet, these last three with Kate.
Approach. Laguna Sucia.
Descent. Via the ruta Italiana and Condorito back to the base.
Photos (click to enlarge)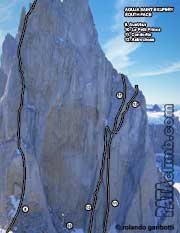 Saint-Exupery south face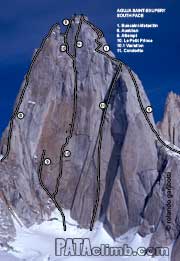 Saint-Exupery south face