News and major updates
A big thank you to all of those who over the years have donated to help mantain this webpage: here.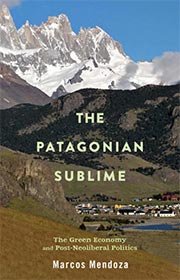 "THE PATAGONIAN SUBLIME: The Green Economy and Post-Neoliberal Politics."

Anthropologist Marcos Mendoza has just published a revealing analysis of the El Chalten area. The book lays bare the issues behind the green economy, dives deep into the social fabric of the town, addresses mountaineering and trekking, takes a close look at APN's regulatory approach, touches on grassroots actions and a long etcetera. If you are socially and academically inclined, and plan to visit the area, buy a copy. A review here. You can buy it here.
CHALTEN MASSIF - 2017/18 Season
Cerro Solo
- Southwest face, new route: French Connection
- West face, new route: Los gringos no comen llajua

Cerro Adela Sur
- Filo Este, variation: "Variante Rumana"
Punta Filip
- West face, new route: "Espera que pegue"

Cerro Pollone
- Northwest face, new route: "Maracaibo"
- Cumbrecitas - Hombro Oeste, "Carstenissima" alternate start: Directa
Aguja Guillaumet
- Amy-Vidallhet, first solo winter ascent of the peak
- East face - ¡Aupa 40! variation
- Another east face mixed link-up
- Pilar del Quinto Sol, rock pillar between the Amy and Guillot
- Guillotina sort of a free ascent, but not quite.
- Comesaña - Fonrouge, 11hs car to car via the Giordani Sit Start.
- Cumbre Sur - Plata o Plomo variation
- Disfrute la Vida - free ascent (old news from 3/2017)

Aguja Mermoz
- East face: Marcoz-Stagnetto-Sullivan variation
Aguja Val Biois
- East face, new route: La Torcida
Cerro Chalten / Fitz Roy
- 10:37 ascent of the Afanassieff.
Aguja Rafael Juárez
- Filo Oeste, alternate start: Los Millenials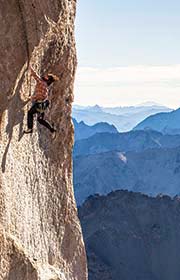 CERRO CATEDRAL - FREY
Segunda edición / second edition
La segunda edición de la guía de Frey esta disponible. Incluye innumerables correcciones y las muchas vías nuevas que se han abierto desde la primera edición. Más información
The second edition is available. It includes countless corrections and updates, as well as the many new routes opened since the first edition. More information
CERRO CATEDRAL - FREY
Actualización 02/04/2017
En este link se puede encontrar una lista de correcciones y adiciones a la guía publicada en 2014. Se incluyen las muchas vías, variantes y sectores nuevos abiertos desde entonces. Muchas gracias a Matías Korten y a José Bonacalza por su ayuda para preparar esta actualización. Cualquier otra adición o error que se encuentre, se agradece hacernos saber a través de la página de contacto.
CHALTEN MASSIF - 2016/17 Season

Cerro Huemul. El tren que no puede parar, new route on the east face.

Cerro Solo. Dong Patrol, new route on the north side and west ridge.
Cerro Solo. Chossopotamia, new route on the southwest face.
El Mocho. Moribito, new line on the north face.
Torre Egger. Second winter ascent, second solo ascent, first winter solo ascent via a link-up on the east side by Marc-Andre Leclerc.
Torre Egger. First continuous (integral) and free ascent of Titanic by Marc-Andre Leclerc supported by Austin Siadak.
Cerro Pollone. First solo and winter ascent of the peak via the South Face.
Colmillo Sur. Califlores new route, east face.
Aguja Guillaumet. New route on the east face ¡Aupa 40!.
--
Cerro Murallón. David Bacci, Matteo Bernasconi and Matteo Della Bordella have climbed a new route on the east face of Cerro Murallón.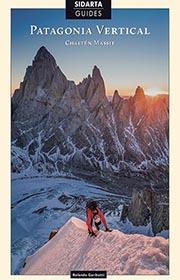 2nd Edition / 2nda Edición
An updated second edition of the guidebook to the El Chaltén Massif is available. It includes the 60 new routes climbed since 2012, a re-edited text, at least half of the photos are new, and many other improvements.
La segunda edición de la guía del Macizo de El Chaltén está disponible. Incluye las 60 rutas abiertas desde el 2012, un texto re-editado, más de la mitad de las fotos fueron cambiadas y un largo etcetera de mejoras sobre la edición anterior.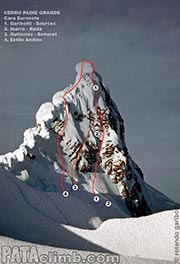 CERRO PAINE GRANDE19/05/2016
Cerro Paine Grande is the tallest and bulkiest peak in the Torres del Paine National Park. It has been climbed only four times: 1957, 2000, 2011 and 2016. It certainly deserves far more attention. The purpose of this write-up is to give a quick overview of what has been done. There are still a few things that require sorting, particularly the line followed by the Japanese expedition back in 1969. Read on.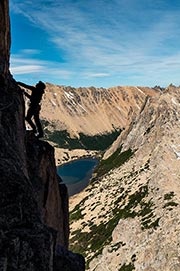 CERRO CATEDRAL - FREY03/01/2016
La sección de Cerro Catedral - Frey ha sido completamente actualizada, incluyendo agujas recientemente exploradas, nuevas vías y los foto-topos de la guía publicada en fin del 2014.
También hemos creado una página con las correcciones y actualizaciones a la guía. A todo aquel que este por visitar Frey le sugerimos imprimir el pdf y agregarlo a su copia de la guía.
Topónimos / Toponyms

Antes de dar nombres a accidentes geográficos (cumbres, puntas, coles, etc) sugiero leer este artículo por Evelio Echevarria, un andinista chileno que lleva más de 50 años explorando y documentando la actividad de montaña a lo largo de los Andes.

Before giving toponyms to any geographic point (summits, sub-summits, saddles, etc) I suggest reading this article by Evelio Echevarria, a chilean climber and explorer that has dedicated much of his life to exploring and documenting ascents across the Andes.

© 2016 Rolando Garibotti & Dörte Pietron.

PATAGONIA VERTICAL -
Macizo de El Chaltén

A complete guidebook to the Chaltén Massif. Winner of the Guidebook Award at the Banff Film and Book Festival. The second edition is now available. Read more

Una guía completa para
las montañas del Macizo
de El Chaltén. Ganador del Premio a la Mejor Guia de Montaña en el Festival de Cine y Libros de Banff, Canada. La segunda edición esta disponible y se puede comprar desde esta página.
Mas información

PATAGONIA VERTICAL -
Cerro Catedral - Frey

Guía completa para
las agujas del Cerro Catedral, zona del Refugio Emilio Frey, Bariloche. Segunda edición. Más información

A complete guidebook to the towers of Cerro Catedral, area of Refugio Emilio Frey, Bariloche. Second edition.
More information
Updates & Corrections

25/02/2018
Después de 42 años de la primera ascensión, apareció la cordada que abrió "Anónimo Yankee" en El Abuelo. Fueron Bronwyn y Murray Judge de Nueva Zelanda, en 1976. Habria que cambiarle el nombre a "conocido neozelandés"...
24/02/2018
Fixed a bunch of crap on the Pollone section. Now Tridente has its own page, Cumbrecitas too. Took the liberty to rename a nameless route that Carsten put up: "Carstenissima", and call his also nameless Gran Gendarme to Tito Carrasco traverse: "Carsten's Traverse". It seemed like a good way to remember someone that loved the area so much and contributed in so many ways.
24/02/2018
Some corrections courtesy of Hugh Logan
- Cerro Solo Cara Este headwall variation
- Cerro Mojón Rojo Cara Noroeste.
08/02/2018
- Two new and more detailed topo / photos for the Motocross and Care Bear Traverse.
30/12/2017
- Fixed somewhere around 80 broken links... oops. Hopefully now there are just a hadfull.
12/03/2017
- Variation on Cerro Solo.
12/03/2017
- Variation on El Zorro, Mojón Rojo.
10/03/2017
- The Cerro Murallón section has been updated.
12/01/2017
- Actualizada la sección sobre el Cerro Colorado. Ahora hace falta registrarse en la oficina de la CONAF en Chile Chico. El resistro es gratis pero obligatorio.
Update to the Cerro Colorado page. Now you must register in the CONAF office in Chile Chico. Registration is free but mandatory.
26/6/2016
- Some corrections to the Cerro Paine Grande page courtesy of Hilton Davies.
Recent articles and other

__________________________________________

Completing the Puzzle2/2015
Over the past four decades, Cesare Maestri's claimed ascent of Cerro Torre in 1959 with Toni Egger has been widely discredited. An abundance of evidence has shown that their high point was only a quarter of the way up. What has remained a mystery is where they actually went during the seven days that Maestri said their round trip required, and from which Egger never returned. New information gives us unequivocal proof of a place they visited that, curiously, Maestri never mentioned and that is nowhere near his claimed ascent, and certainly no place one would unintentionally wander or forget. Read on
Addendum. Cesare Maestri's response has been predictable, if not sad.

Second addendum. Bruno Detassis detailed report: no mention of an outing to the col north of Col Standhardt in this report or in any of the extensive bibliography of the expedition.

___________________________________________

Peak lists. Your pick, your peaks.3/1//2015
There have been various peak lists claims over the years. Here is a look at the possible peak lists of the Fitz Roy Range and the Cerro Torre group. Continue reading.
___________________________________________

Gestión de Riesgo - Risk Management17/12//2014
El gran número de accidentes que ocurren en comparación al número de usuarios es preocupante. Acá presentamos un primer intento a una ayuda memoria sobre los puntos a tomar en consideración antes de embarcarse en una ascensión. Sugerimos también leer las paginas de la guía relacionadas con "como sobrevivir" y rescates. En español pdf aca.

The huge number of accidents that have been happening in comparison to the number of users is worrisome. Here we present a first attempt at a list of considerations to take into account before embarking on a climb. We also suggest reading carefully the pages of the guidebook that relate to staying alive and rescue. English pdf here.
___________________________________________
More "articles" here.