Cerro El Mocho - North face
13. Dulce de Leche
400m 7a
Luka Krajnc and Tadej Krišelj (SI), 1/2013.
Description. The first ascensionists describe it as quite a good, sustained route. There are three pitches of grade 5, five pitches of 6b, one of 6b+ and two of 7a. They left 2 pitons on the second 7a, but otherwise there is no gear on the route.
History. In 2009 and 2011 Argentines Ignacio Elorza and Maria Jose Moisés made a number of attempts to climb this line managing five pitches before retreating due to bad quality rock.
Approach. Niponino.
Descent. Frader Pisafe
Photos (click to enlarge)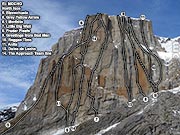 El Mocho - north face