Cerro El Mocho – North face
11. Anita
400m 6b+
Martin Laguna and partner (Argentina), January 2005.
Description. Shares the first pitch with Reggae Time, then climbs right, to an obvious chimney, which has one small roof that is the crux of the climb. The upper part involves slabs that more often than not are wet.
Approach. Niponino.
Descent. The rappel line is to climber's right of the route.
Photos (click to enlarge)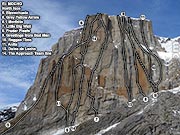 El Mocho - north face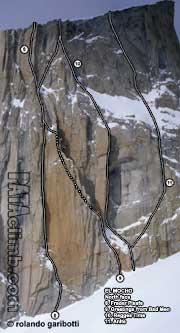 El Mocho - north face