Cerro El Mocho - East buttress
2. Voie des Bénitiers
400m 7b+ (6c C1)
Daniel Anker and Michel Piola (CH), 4/1/1989.
Description. Climbs a line left of the first ascent route, which it joins in the upper pitches. Except for the first pitch, which can be avoided by climbing to the right, the quality of the rock is very good. Well worth the walk!
History. Piola and Anker waited for good weather in the Piergiorgio valley for about a month, until they had to go home. The day they were supposed to leave they changed their minds and decided to stay an extra ten days. During those ten days and in spite of mostly bad weather they climbed four new routes, an impressive one on Poincenot, one on Innominata, one on Guillaumet and this very enjoyable one on El Mocho. The name of the article Piola wrote for Mountain Magazine back then was "Patagonicos Desesperados", a name that likely explains well the frustration they so successfully channeled into such a ferocious spree of activity. Free ascent: The first free ascent of the route was done by Chis Righter and Josh Wharton in January of 2011. Solo ascent: Marc-Andre Leclerc did the first solo ascent of the route in Ocrtober of 2015. He belayed in only one pitch, in the crux pitch, which he aided on lead and freed following with a Microtraxion.
Approach. Niponino.
Descent. Via the same route.
Bibliography. Mountain magazine 130 p. 20-25; Vertical magazine 32 p. 28-37; AAJ 1990 p. 206-209.
Photos (click to enlarge)
El Mocho - east face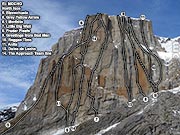 El Mocho - north face