Desmochada - South face


4. Dieta del Lagarto


400m 7a+ C1+
Isaac Cortes (Cataluña), Jon Walsh (Canada), Andres Zeger (Chile), 27-28/2/2005.
Description. A major variation to El Facon. Climb five pitches (6b with one short section of 6c+ off-width in the third pitch) left of El Facon to reach the big ledge. Traverse right to join El Facon for two long gritty pitches (6b+, hands and fingers) then move left into a big left-facing corner for about 120 meters (A1). Re-merge with El Facón and follow it to the summit (700m altogether).
History. This was the third ascent of Aguja Desmochada. They climbed the route in a 36h round trip from their camp.
Approach. Niponino and Couloir Poincenot.
Descent. Rappel via The Sound and the Fury. Once at the ledge traverse to the west end of the ledge where a bolt and a piton mark the rappel line. Make one rappel to the south, then 5 more raps to the west to reach ground. From there the easiest descent is down the couloir to the north, making two 30m raps (slung horn and then a single bolt) to a ledge right above it, followed by one 60 meter rap into the couloir itself (fixed piton).
Photos (click to enlarge)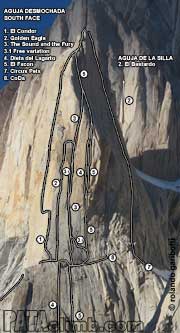 Desmochada south face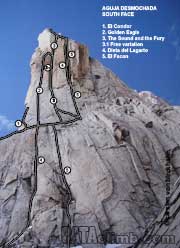 Desmochada south face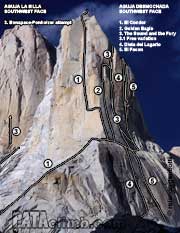 Desmochada southwest face