Desmochada - Southeast face


7. Circus Pets


500m 6c
Pete Fasoldt and Eli Simon (USA) 9/2/2011.
Description. Climbs 13 pitches on rock that is far from great, that has many loose flakes. It starts at a snow ledge about 30m below the horizontal ledge that splits the first third of the tower's south face. Pitch 10 is a 35-40 meter off width with little to no protection. You can bypass it by climbing left, traversing 8-10 meters to then head up 40 meters, trending up and right, rejoining the route just below the belay at the end of the original OW pitch. The first ascentionists aided a two meter section on the last pitch where they encountered an icy crack. This was later freeclimbed by Ben Erdmann and Mark Westman.
History. They first attempted the route a few weeks earlier with German Carsten Von Birkhahn but only made it up 6 pitches. During the final ascent Fasoldt pulled out a huge loose block on the approach pitch and took a 7 meter fall smashing his head, hand, knee, elbow, and butt. It was not a great way to begin the day. Luckily they had a few Percocets (pain killers) with them and these allowed Fasoldt to keep climbing. The route's name is a play on the words on the Percocets.
Approach. Niponino and Couloir Poincenot.
Descent. This route has a lot of flakes, rappelling down it is not recomended. Consider rappelling The Sound and the Fury.
Photos (click to enlarge)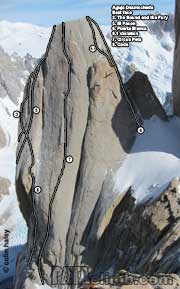 Desmochada east face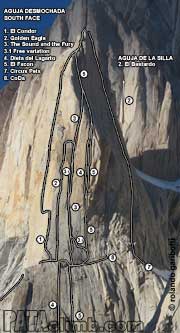 Desmochada south face and

southeast face