Cerro Adela – East face
6. Balas y Chocolate
900m WI5+ A2 M6+
Dani Ascaso, Lise Billon, Santi Padrós and Jerome Sullivan (ES/FR/US), 10/2015.
Description. Climbs a difficult and engaged line up the right side of Adela Norte's east face. The first few pitches are exposed to some objective danger.
History. They started climbing at 3AM. Initially they climbed as two independent teams, but at the two crux pitches, which required seven hours, they joined forces. At dusk they reached the easier terrain above the crux, and by 3AM they reached the ridge in the vicinity of Col de la Esperanza. They had hoped to continue on to the Via dei Ragni, but light frostbite dictated otherwise, so they headed down, to Circo de los Altares, and back to twon via Paso Marconi. More info here.
The name refers to a Lila Downs song, youtube here.
Approach. Niponino.
Pro. Camalots to #2, Stoppers, 6 pitons, 12 screws, snow pickets, wings, cold weather!
Descent. Take subway Linea A to Plaza Miserere, connecting to Linea H to Pueyrredon, and connecting to Linea B to Carlos Gardel. Once there, walk the rest of the way back to town, or flag a taxi.
Photos (click to enlarge)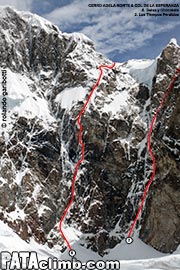 Adela Norte & Col de la Esperanza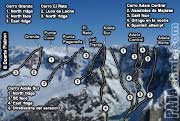 Cerro Grande, Cerro El Ñato, Cerro

Adela Sur, Central y Norte - east face