Cerro Adela Central - East face
3. Cara Este
1200m 85º
Sebastián De La Cruz (Argentina), 26/12/1987.
Description. The east face of Adela has a lot to offer and hopefully at some point will see more action. The route follows a prominent buttress on the east face, to the left of the central couloir. To reach the summit ridge "Seba" had to climb through two cornices, the first one of which was overhanging but had good ice. He climbed the route in the night to minimize objective dangers.
History. His comment after this bold ascent was: "Si estás en la boca del lobo, lo más simple es salir por el trasero..." (if you are in the wolf's mouth the easiest solution is to exit via its ass...)
Approach. Niponino.
Pro. Balls, not Lowe-Balls, the other kind. Rumor has it that LSD was part of the first ascent gear list.
Descent. From the Trento col (Adela-Ñato) to the east or traverse the west face of El Ñato to paso Doblado (Ñato-Doblado), then to Paso Tunel (Solo-Grande) and back to De Agostini.
Bibliography. Anuario CAB 1992 p. 76-79; AAJ 1988 p. 178; AAJ 1992 p. 172.
Photos (click to enlarge)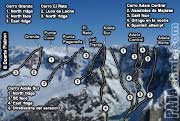 Cerro Grande, Cerro El Ñato, Cerro

Adela Sur, Central y Norte - east face