Cerro Torre - East face


9. Quinque Anni ad Paradisum


900m 90˚ 6c A4
Alessandro Beltrami, Ermanno Salvaterra and Giacomo Rossetti (Italy)
Description. Takes a series of cracks to the left of the start of the American Torre Egger route, to reach the triangular snowfield from where it climbs straight up the east face climbing slabs to reach a prominent corner, and traverse left to a large flake, the "Dalai Lama" (a play on words, lama means flake in italian). After a few steep pitches the angle eases off, to reach a very narrow 70-meter ice runnel, which is not a give away. From there a large icy chimney on the right flank of the "Ice Towers" leads to the Compressor route, which is followed for the last 300 meters to the summit. 1200m altogether.
History. The first to talk about an east face route was Italian Andrea Sarchi, back in 1985. Sarchi seems to have been the muse of a fair number of projects, since he was also the brains behind the Torres traverse idea. Salvaterra first attempted this line in 2001, with Walter Gobbi, Paolo Calza, Mauro Goivanazzi. Over eight days, climbing in capsule style they managed to climb some 800 meters, but at a portaledge camp Salvaterra and Gobbi got intoxicated with propane while waiting out a storm and they decided to retreat.
Salvaterra originally intended to climb an independent line to the summit, but the big ice chimney he had hope to climb high on the face to gain the upper north face, proved to be too dangerous due to unconsolidated ice. They climbed in capsule style, spending a total of 8 days on the wall.
Early attempts include a Polish team that in 1996 climbed to a point 150 meters above the triangular snowfield.
Approach. Niponino to Noruegos to Glaciar Torre Superior.
Descent. Via the same route.
Bibliography. High magazine 165 p. 40; AAJ 1997 p. 245.
Photos (click to enlarge)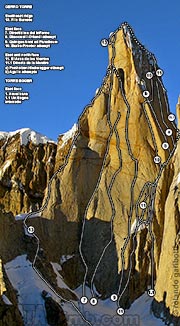 Cerro Torre east face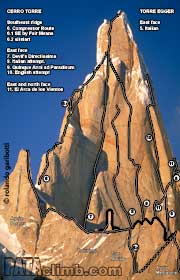 Cerro Torre southeast face