Cerro Torre - East face


7. Peklenska Direttissima


900m 95˚ 7a+ A4 M6
Janez Jeglic, Silvo Karo, Francek Knez, Peter Podgornik, Pavle Kozjek and Matjaz Fistravec as cameraman (Slovenia), 16/1/1986.
Description. A very difficult line, on which no progression bolts were placed and only 5 bolts were placed for belays. 1200m altogether.
History. An unknown team had attempted this line previously, but had only managed to climb a couple of pitches before retreating. The first ascentionists were part of a big expedition that also included Belehar Borut (doctor), Stane Klemenc (expedition leader) and Slavko Sveticic. The team fixed 850 meters of rope over a 35-day period before making a final push, during which they made a bivy at the base of the summit headwall, where their line joins the Compressor route. In 1994, after climbing the Ragni route, Frenchmen David Autheman, Fred Valet and Patrick Pessi tried to descend the Compressor route but took a wrong turn and descended this route... For those willing to repeat this feat, beware that the Slovenes set the rappel stations on the slabs just north of the gully, and not inside it. The name translates to Hell's Direct. It has been badly translated into Devil's Direct.
Approach. Niponino to Noruegos to Glaciar Torre Superior.
Descent. Via the Compressor route.
Bibliography.
First ascent: Mountain Magazine 108 p. 15; AAJ 1986 p. 205; AAJ 1987 p. 114-122; Alp magazine 12 p. 14; Peñarala 442 p. 37; Planinski Vestnik 1986/2 p. 82; Planinski Vestnik 1986/4 p. 148-156; Planinski Vestnik 1987/1 p. 11-13.
Authemann: High magazine 152 p. 13-14; AAJ 1995 p. 212; Vertical magazine 78 p. 44-46; Extrem magazine 71 p. 76; Desnivel magazine 23, p.13.
Photos (click to enlarge)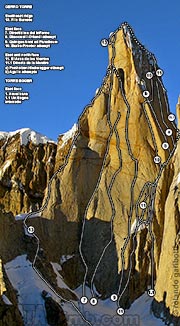 Cerro Torre east face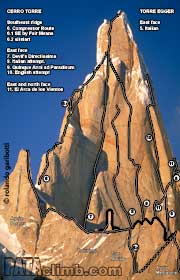 Cerro Torre southeast face