Cerro Piergiorgio - West face
9. Skull Fuck
500m 6c+ (5.11b/c)
Pete Fasoldt - Jonathan Schaffer (1/2016)
Description. Climbs 12 pitches on the right side of the obvious pillar located on the far right side of the west face. No off-widths on this line, unlike Pilar Canino justo to the left, that is full of them.
History. The name refers to a term used in this area to describe climbing a whole lot: "tearing a tower or peak apart" Freddie Wilkinson came up with it and Colin Haley popularized it.
Approach. Glaciar Marconi.
Gear. Doubles to #3, one #4, TCUs, Stoppers.
Descent. Rap Pilar Canino. The upper rappels required placing pieces because they overhang so much.
Photos (click to enlarge)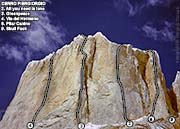 Cerro Piergiorgio - West face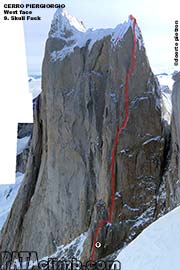 Cerro Piergiorgio - West face