Piergiorgio - Northwest face
6. Pepe Rayo
600m 7a A3+
Mauro Girardi, Lorenzo Nadali, Pietro dal Prá and Andrea Sarchi (Italy), January and February 1996.
Description. Tackles the far left side of the steep NW face, climbing 16 difficult pitches to reach the east ridge. The only bolts placed on the route were at belays and no other holes were drilled.
History. They fixed ropes over a three-week period that they removed after completing the ascent, leaving the line clean for future repeat. They retreated upond reaching the end of the wall and the east ridge (unclimbed then), some 250 meters below the summit.
The route was named in memory of Jose Luis Domeño Rayo, a young Basque climber who was attempting a new route on the very same wall and who, under their very eyes slipped to his death (30/1/1996). "Rayo" was a Patagonian regular and was very well liked by everyone in the area. His death was mourned by many.
Approach. Glaciar Marconi.
Descent. Via the same route.
Bibliography. Lo Scarpone 1996/7 p. 14-15; High magazine 164 p. 30; AAJ 1997 p. 247; Annales GHM 95/96 p. 50.
Photos (click to enlarge)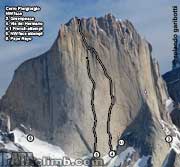 Cerro Piergiorgio - Northwest face
Cerro Piergiorgio - Northwest face