Cerro Piergiorgio - West face
8. Pilar Canino
500m 7b
Katsutaka "Jumbo" Yokoyama - Takaaki Nagato, 1/2016.
Description. Climbs 17 pitches, many quite short, on the left side of the obvious pillar located on the far right side of the west face. It is a very sustained line, with many wide pitches, specially the last section, which is very steep and involves a full-body off-width. The pitches are as follows: 30m 5; 30m 6b; 50m 5+; 40m 7b (tips/layback); 25m 6a+ ow; 20m 6c ow; 50m 6b+ ow; 30m 6b+ ow; 55m 6c+ ow; 50m 6a+; 40m 6a+; 20m 6b+; 25m 6c+ hands; 25m 6c+ hands; 20m 6c+ ow; 40m 6c ow; 60m 4. 600 meters of climbing in all, 500m of vertical gain.
History. They climbed the route free, redpointing every pitch. The name (canine) refers to the fact that the route "bites" and also remembers Kenshi Imai (canine in Japanese is "kenshi"), a friend that disappeared during a solo reconnaissance on the unclimbed north face of Chamlang (7319m), Nepal, this past November. Joel Kauffman and Jonathan Schaffer had climbed to within three pitches from the top a couple of weeks earlier, but gave up because of water and ice in the last section. They are the ones that found this gem.
Approach. Glaciar Marconi.
Gear: For a repeat carry doubles 03 to #3, 1 ea. #4 to #6, stoppers.
Descent. Via the same route. The upper pitches required placing pieces while rappelling because it overhangs so much.
Photos (click to enlarge)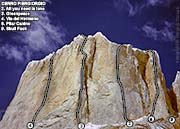 Cerro Piergiorgio - West face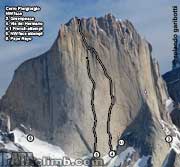 Cerro Piergiorgio - Northwest face