Cerro Adela Sur - East face
6. Direttissima dei Seracchi
1200m 90º
Gian Carlo Grassi and Mauro Rossi (Italy) 9-10/12/1986.
Description. Climbs a line on the far left side of the east face, leading to the obvious serac two thirds of the way up. Four very steep ice pitches are required to surpass the serac. Needless to say it is a rather dangerous route. Fancy Russian roulette?
History. Who else but Grassi would climb a route like this? Grassi was well known in the Alps for climbing lines under seracs. Grassi and Rossi climbed the route during the night. It took them 26 hours round trip from Campo De Agostini. They originally intended to climb a more direct line to the summit of Adela Central, but warm conditions forced them to look elsewhere. Although they climbed during the night to find colder temps and minimize objective danger, they report that at 2:00 AM the serac was dripping.
Approach. Niponino.
Pro. Courage and a lot of luck.
Descent. From the Trento col (Adela-Ñato) to the east or traverse the west face of El Ñato to paso Doblado (Ñato-Doblado), then to Paso Tunel (Solo-Grande) and back to De Agostini.
Bibliography. Mountain magazine 119 p. 12; Alp magazine 23 p. 18-21; Rivista della Montagna 84 p. 11-13; Rivista della Montagna 86 p. 56-61; AAJ 1987 p. 215; Annales GHM 1987 p. 36; CAI-Rivista Mensile 1987/4 p. 36-44.
Photos (click to enlarge)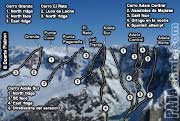 Cerro Grande, Cerro El Ñato, Cerro

Adela Sur, Central y Norte - east face