Cerro Adela Sur - North ridge
1. Filo Norte
200m (from Adela Central summit) D
Walter Bonatti and Carlo Mauri (Italy), 7/2/1958.
Description. Starting from the Icecap, from a cirque south of Circo de los Altares named by the first ascentionists Circo de las Cascadas located at the base of Cerro Grande's west ridge, climb a glacial tongue leading to snow ramps above, which lead to the summit of Adela Central, from where a short ridge walk leads to the summit of Adela Sur. The glacial tongue has change greatly since 1958, and due to crevasses it might not be a reasonable climb anymore.
History. This was the second of several summits that Bonatti and Mauri climbed while making an impressive traverse from Adela Central to Cerro Grande and Punta Luca. See Adela Traverse for more details.
Approach. Paso del Viento.
Pro. Bonatti and Mauri used only a rope.
Descent. Back to the west, to the starting point.
Bibliography.
CAI-Rivista Mensile 1958/3-4 p. 114; CAI- Rivista Mensile 1959/1-2 p. 32-39; AAJ 1959 p. 317; Lo Scarpone 1958/1 p. 1; Lo Scarpone 1958/2 p. 1; Lo Scarpone 1958/5 p. 1; Lo Scarpone 1958/20 p.1; Mundo Argentino 10/9/58 #2480 p. 27-35; Leoplan a.24 #572 1/6/58 p. 1-8; Bonatti W. (1961), Le Mie Montagne, Zanichelli, Bologna (p. 191-214); Bonatti W. (1979) On the Heights, Diadem Books, London (p. 153-169); Rho F. and Mauri F. (1997) Carlo Mauri - Il Viaggiatore dei Sogni, Ferrari Ed., Clusone (p. 48-57); Bonatti W. (year?) Montagne de una vita, Ed? p. 137-152.
Photos (click to enlarge)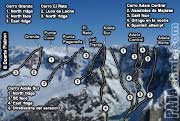 Cerro Grande, Cerro El Ñato, Cerro

Adela Sur, Central y Norte - east face

Cerro Adela Sur, Cerro El Ñato, Cerro

Doblado y Cerro Grande,- west face