Cerro Adela Sur - Southeast face
2. Filo Sur
600m PD
Luciano Eccher and Cesare Maestri (Italy), 7/2/1958.
Description. Climb to Paso Doblado (Ñato-Doblado) and traverse west, across the western slope of cerro El Ñato, to reach the col "Trento" (christened so by the first ascencionists), between Ñato and Adela Sur, then follow the south ridge to the summit.
History. Eccher and Maestri had climbed cerros El Doblado and Grande a few days before. Cesarino Fava went with them to the paso Doblado but from there retreated as he was having some problems with his feet (cold).
They thought they were about to do the first ascent of Adela until close to the summit they run into Walter Bonatti and Carlo Mauri descending. Of this encounter Maestri recalls the following, "we found the snow all yellow where they had pissed. That was their greeting to us." Bonatti recalls a very different story, mentioning that they had a snack together and that Mauri and him pointed them to yet another unclimbed summit.
Approach. Glaciar Grande Superior. to Paso Doblado.
Pro. Glacier travel kit.
Descent. The first ascencionists reversed the route of ascent.
Bibliography. AAJ 1959 p. 317; CAI-Rivista Mensile 1958/3-4 p. 112, p. 114; CAI-Alpinisti Italiani nell Mondo 1972/2 p. 836; Lo Scarpone 1957/23 p. 1; Lo Scarpone 1958/1 p. 1; Lo Scarpone 1958/2 p. 1; Lo Scarpone 1958/5 p. 1; Lo Scarpone 1958/21 p. 3; Bolletino SAT 1958/2 p. 3-8; Bolletino SAT 1959/3 p.13; Italiani sulle Montagne del Mondo p. 273-274; Maestri C. (1961) Arrampicare il mio Mestiere, Garzanti, Milano (p. 57-86); Maestri C. (1981) Il Ragno delle Dolomiti, Rizzoli, Milano.
Photos (click to enlarge)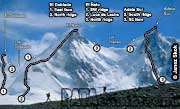 Cerro Doblado, Cerro El Ñato y Cerro

Adela Sur - east face

Cerro Adela Sur, Cerro El Ñato, Cerro

Doblado y Cerro Grande,- west face