Aguja Standhardt – East face
3. Tomahawk
450m M7 WI 6
Conrad Anker and Steve Gerberding, (USA), 25/12/1994 to Exocet. Laurence Monnoyeur and Bruno Sourzac (France), 1997 to the summit.
Description. Climbs an ice encased chimney leading to Exocet, which it joins after 400 meters.
History. Anker and Gerberding climbed to where Tomahawk joins Exocet, then retreated. Three years later Monnoyeur and Sourzac linked Tomahawk and Exocet to the summit. They completed the ascent in two days, with one bivy at the base of the Exocet chimney. Although the name Exocet had a deeper meaning beyond the missile theme, the subject has stuck to the face. Winter ascent: in 2002 Quebequois Martin Boiteau and Claude-Andre Nadon made a winter ascent of Tomahawk. Free ascent: Tony Richardson and Jon Simms freed the first pitch in early 2014, giving it M7+. Solo ascent: On September 24th, 2015, one day after the winter equinox, Marc-Andre Leclerc free-soloed the route, linking it with Exocet which he also free-soloed. His was the second solo ascent of Standhardt. He found the first pitch to be easier than the reported M7+. He reached the summit 12 hours after leaving Niponino.
Approach. Niponino toward Col Standhardt.
Descent. Via Exocet.
Bibliography.
Anker et al. High magazine 152 p. 15; Annales GHM 1994-95 p. 11; Vertical magazine 78 p. 49.
Monnoyeur et al. AAJ 1998 p. 282-284; Vertical magazine 108 may 98 p. 46-54; Blue vol2 #1 march 99 p. 51-57.
Photos (click to enlarge)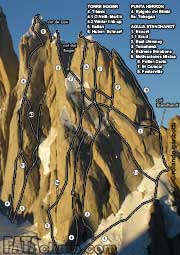 Torre Egger and Aguja Standhardt

southeast face