Aguja Standhardt – East face
5. Chaverri - Plaza attempt
Pepe Chaverri (Spain) and Teo Plaza (Argentina); 30-31/12/1993, to 70 meters from the summit.
Description. See photos. The cracks in the central pillar are incredible!
History. Pepe and Teo made close to ten alpine style attempts over several weeks. During one of them, they reached a point 200 meters below the summit, with Lorenzo Ortiz. On their last attempt, without Ortiz, they reached the base of the upper headwall in one day, and bivied. The following morning they climbed to near the end of the difficulties when Teo was hit by icefall. He suffered a broken femur. They were at the easy slabs leading to the summit mushroom, at the end of the headwall. To avoid falling debris they descended 20 meters to the right of their ascent line, leaving their line of ascent devoid of any trace of passage. It was thanks to Ermanno Salvaterra that they manage to get Teo to the hospital the following day.
In 2006, Americans Dean Potter and Steph Davis climbed Exocet to the base of the chimney, then moved left and climbed a line in the headwall that might be the same that Teo and Pepe climbed. In all they climbed 6 pitches, of which most required aid. See Potter-Davis route.
Motivaciones Mixtas still awaits a complete ascent.
Teo died in an avalanche on Cerro Tronador less than a year later. Lorenzo died while attempting to descend from the summit of K2 in 1995. Pepe and his two partners fell and died during an ascent of the north face of Grand Jorasses in 2000.
Approach. Niponino, toward Col Standhardt, then left at the base of Standhardt.

Bibliography. AAJ 1994 p. 178-183; Desnivel magazine 93 p. 12-13, p. 92; Desnivel magazine 96 p. 54-60; High magazine 142 p. 38-39; GHM 1994-95 p. 11.
Photos (click to enlarge)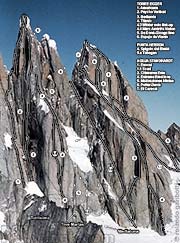 Torre Egger and Aguja Standhardt

south face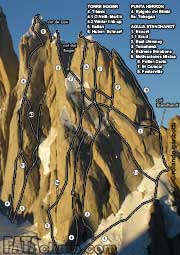 Torre Egger and Aguja Standhardt

southeast face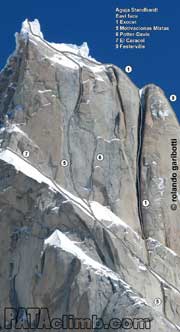 Aguja Standhardt east face