Aguja Rafael Juarez - West face


5. Corallo


450m 7b
Fabio Leoni and Ermanno Salvaterra (IT), 12/2/1994.
Description. This very sustained 14-pitch route was climbed alpine style, in just one day, and went all-free except for two moves. It climbs the obvious dihedral in the center of the west face. The rock is slightly flaky on the main corner and the upper part sports some wide cracks for which you might want to bring big camalots. 14 pitches total.
History. In November 1994 Ermanno Salvaterra and Maurizio Giordani attempted a line slightly more to the right, but were forced to retreat due to the lack of adequate equipment for the type of terrain encountered (thin cracks/difficult aid). The first ascentionists named the route after the coral colored rock on the upper left side of the face, and dedicated the route to the memory of Toni Egger. Free ascent. In early 2010 Ben Ditto and Hayden Kennedy made the first free ascent of the route. Leoni and Salvaterra had used a single point of aid high up on the route, as shown in their original topo.
Approach. Polacos.
Descent. Via the Anglo-Americana.
Bibliography.
Rivista Alp 111 p.18; AAJ 1995 p. 208-209; High 142 p. 42-43; Desnivel 96 p. 93; Annales GHM 1994-95 p.13, p. 54; Rivista della Montagna 167 p. 8; Bolletino della SAT 1994/2 p. 30-31.
Photos (click to enlarge)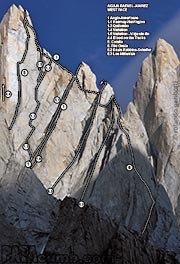 Aguja Rafael Juarez west face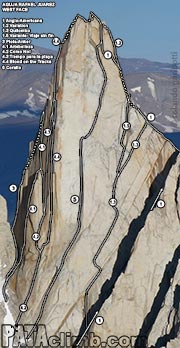 Aguja Rafael Juarez west face

Aguja Rafael Juarez north face