Aguja Rafael Juarez - West face


6. Filo Oeste

6.1 Variante Chilensis
6.2 Davis-Robbins - Schaffer
6.3 Los Millenials

700m 6b+
Greg Crouch and Jim Donini (US), 2-3/12/1996 to the Anglo-Americana. Paul McSorley and Jon Walsh (CA) in 2/2005 to the summit.
Description. Starts on the lower left side of the west pillar from where 24 pitches lead to the junction with the Anglo-Americana, 4 pitches from the summit. Seven pitches of mixed climbing lead to the base of two obvious right leaning cracks that split at the first tower on the ridge. Climb the left crack (2 pitches, 6b/A1) and continue up the ridge weaving around the upper towers on the ridge for 12 pitches (mixed climbing and convoluted horizontal route finding). This route was first climbed in "wintery" conditions so repeats can expect to find very different conditions. During the second ascent the route was climbed free at 6b+.
History. Due to serious dehydration and exhaustion the first ascentionists retreated after joining the Anglo-American route, during their second day on the climb. Since they were not able to reach the summit and since they consider that an "alpine route" is not complete unless the summit is reached, Crouch and Donini did not considered it a first ascent and refused to name it. In February 2005 Canadians Paul McSorley and Jon Walsh made the second ascent, first free ascent and first integral ascent of the complete west buttress all the way to the summit. Walsh described his ascent of the route as "a very fun day on great rock." In 2011 Argentines Flavio "Manzana" Renzacci, Paula Pera and Manuel Quiroga did a "sit start" to this route starting to climb in the slabs right above Polacos adding a further 300 meters of climbing to this already long route.
Approach. Polacos.
Descent. Via the Anglo-Americana.
Bibliography. High 176 p. 78; AAJ 1997 p. 252-253.

Photos (click to enlarge)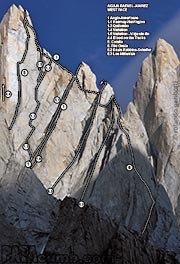 Aguja Rafael Juarez west face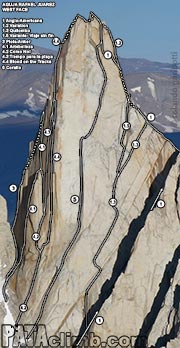 Aguja Rafael Juarez west face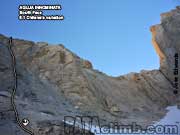 Aguja Rafael Juarez west face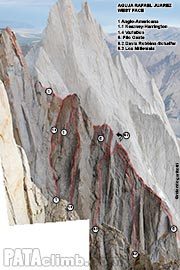 Aguja Rafael Juarez west face
Jose Edwards and Vicente Espinoza (CL), 12/2011.
Ten new pitches in the south face of the west ridge of Innominata. The climb involves an unprotected 6a+ slab and crack climbing to 6b+ and A0.
History. Jose and Vicente climbed to the Filo Oeste, then along this route for six more pitches to the junction with the Anglo-Americana from where they retreated down the Anglo-Americana.

6.2 Variante Davis Robbins-Schaffer
Crystal Davis-Robbins and Jonathan Schaffer (US), 1/2015.
Climbs a number of new pitches to reach the west ridge, heading right then, across a knife edge ridge and a crack before heading left and over a bulge. 300 new meters apporx with difficulties to 6b.
Matías Korten and Agustín Mailing (AR), 2/2018.

Climbs five pitches to reach the ridge, then one more along the ridge, to 6b.